We offer interior and exterior painting, deck restoration, drywall repair, carpentry, pressure washing, mildew removal, wallpaper removal, staining and varnishing, texturing, and related services.
No matter what your painting needs, we have the experience and expertise to recommend and apply the highest quality finishes. We feature top quality products from remarkable manufacturers.
Our comprehensive process for interior painting is meticulous and systematic. With over 10 years of experience, we have the knowledge and ability to get your painting project completed in a timely manner.
Our Interior painting procedure includes the following:
Free Estimate
Color consultation available
Repair of nail holes
Repair stress cracks and other drywall damages
Sanding of walls complete
Caulking of all joints that are failing of void
Application of top quality interior paint
Second coat is applied (recommended for longevity)
Complete visual inspection
Clean up of area
There are many choices when choosing a sheen level for your interior paint. The levels of sheen vary from manufacturer to manufacturer, but this is a list of the more common sheen levels from least shine to most shine.
Flat – No shine
Egg Shell – Low shine when viewing the wall at an angle
Satin – Some direct sheen, great wash ability
Semi Gloss – Moderate shine, for level 5 drywall, and trim
High Gloss – Looks wet even after it dries
The farther down you go on the list the more imperfections you will see in your walls. Semi gloss, and high gloss are mainly reserved for trim, doors, door frames, windows, crown molding, and chair railing. Flat paints are great for hiding minor drywall imperfections, but you give up some ability to clean stains from the paint.
The Art Vision Painting LTD can paint the exterior of your home, providing you with the experience and expertise you are looking for in a painting contractor.
Large house, small house – it makes no difference. We can provide you with the same quality painting service customers have been talking about since 2008!
All homes are inspected and given a thorough walk through for any problem areas before the estimate is written. What that means to you is that there are no surprises after the work has commenced, and that provides you with peace of mind.
"If you don't have time to do it right the first time,
when are you going to find the time to do it again?"
Our comprehensive process for exterior painting is meticulous and systematic.
Exterior painting procedure includes the following steps:
Free Estimate
Pressure Washing to remove contaminants and mildew
Caulking of all joints that are failing of void
Scraping of any loose or peeling paint
Priming of all surfaces where raw wood is exposed
Application of 100% acrylic exterior paint
Second coat is applied (recommended for longevity)
Complete visual inspection
Clean up of area
Color consultation available
Top reasons why exterior paint fails:
Failure to properly remove contaminants from surface
Failure to correct a source of moisture
Failure to use primer
Failure to use top quality paint
Not meeting manufacturers spread rate
Failure to use the right type of paint
Application of paint at incorrect temperature
As you can see, there are many reasons why paint fails. Compare the list of what we do, to the list of why paint fails, and you can rest assured that The Art Vision Painting LTD will not allow these to become issues with your home.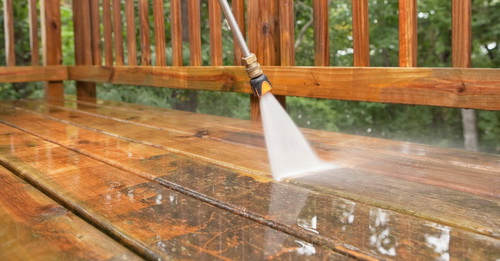 The Art Vision Paintings' equipment is commercial grade and includes using all professional cleaning solutions and applications. Our technicians are professionally trained in power washing applications. We power wash:
Aluminum siding
Vinyl siding
Decks
Patios
Patio furniture
Garages
Sidewalks
Play sets
And more!
All our work is subject to on-site inspection and the final price is determined BEFORE the start of cleaning.
Exact prices are based on estimates and personal agreement with the customer. Estimates and consultation are given in person. Please contact us for accurate, fast, FREE estimate with expert advice.
>Our Guarantee:
If you are not completely satisfied, just call us within seven (7) days and we will re-clean to your satisfaction.
No terms and conditions apply.
The quality of your paint job is our top priority and we ensure its success and durability by providing drywall repair services. We can fix any problem with your drywall to ensure it's in perfect condition for a new layer of paint. We also replace rotten wood inside your walls and sections drywall damaged by water mold and mildew to ensure everything is clean, hygienic and ready for a makeover.
Textured ceilings have been popular for many years because they add visual interest to a room. But whether you have a popcorn, knockdown, or orange peel ceiling, painting it can be a daunting proposition. It requires careful preparation and the right tools to get the job done to a professional standard.
We can easily provide you with any number of textures and designs for your ceilings. And no matter what services you need from us, we'll guarantee that the changes to your Vancouver home leave it as attractive as possible.
Venetian plaster is the most common wall and ceiling finish consisting of plaster mixed with marble dust, applied with a spatula or trowel in thin, multiple layers, which are then burnished to create a smooth surface with the illusion of depth and texture. Art Vision Painting is specialized in application of venetian plaster and other Italian decorative techniques such as roccia rigata, spaccante effect, old world, texturing with metallic and many others which have been used in Italy for centuries. You can see samples here. Our Italian finishes are available for a wide range of surfaces, including:
Ceilings
Walls
Fireplaces
Niches
Range Hoods
Wine Cellars & Bars
Columns
Accent Walls
Backsplashes